Live your dream of surfing Indonesian world-class breaks on board of the Laneez Indo Surf Charter.
The ideal private charter for small groups looking for an extraordinary experience of endless tropical waves.
TRIP #2: March 2024 (4th – 15th)
TRIP #3: October 2024 (dates to be confirmed)
PERFECT AND UNCROWDED WAVES
SURF COACHING
WAVES FOR ALL SURF LEVELS
EXPERIENCED SURF GUIDES
PERFECT AND UNCROWDED WAVES
SURF COACHING
WAVES FOR ALL SURF LEVELS
EXPERIENCED SURF GUIDES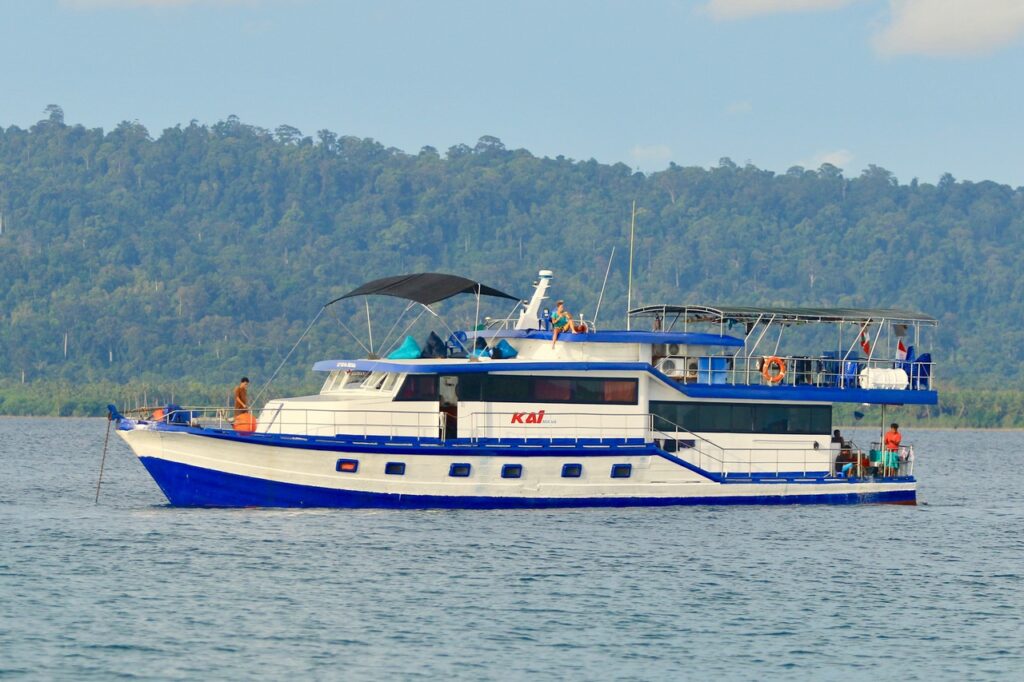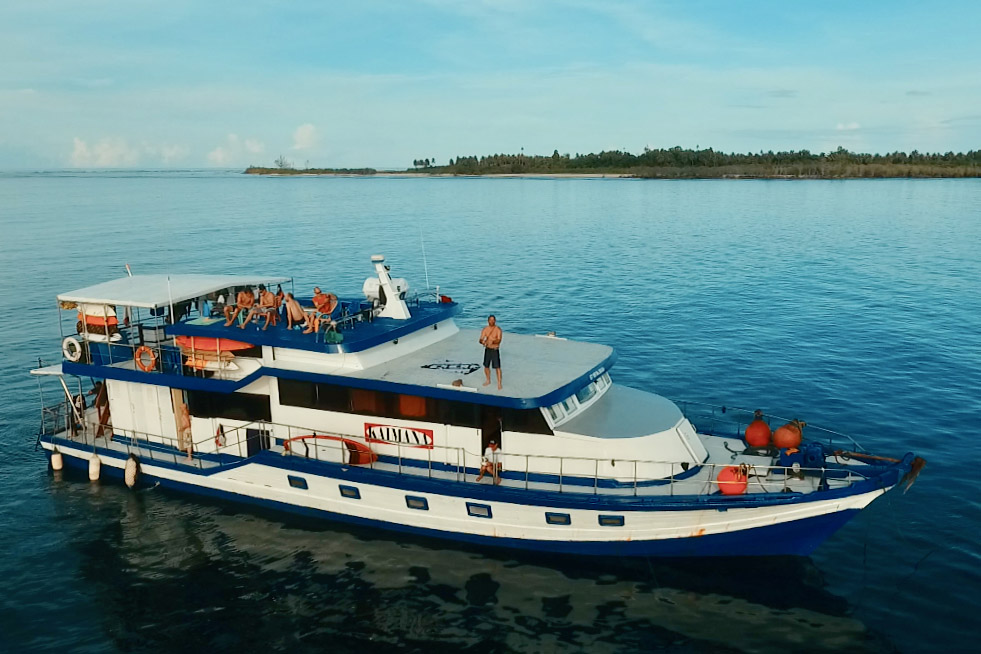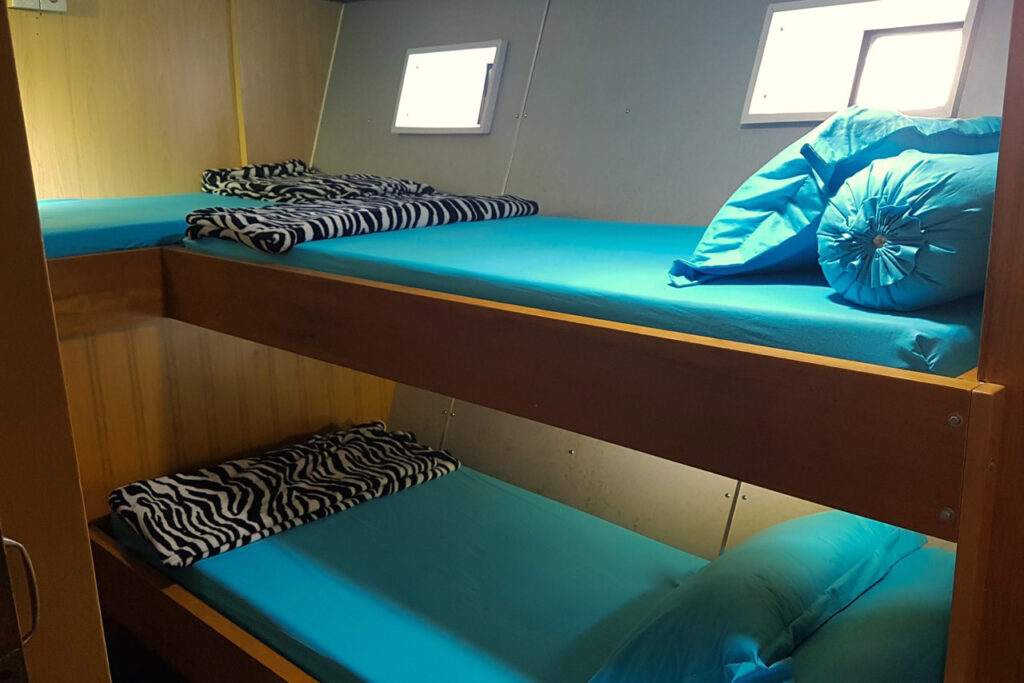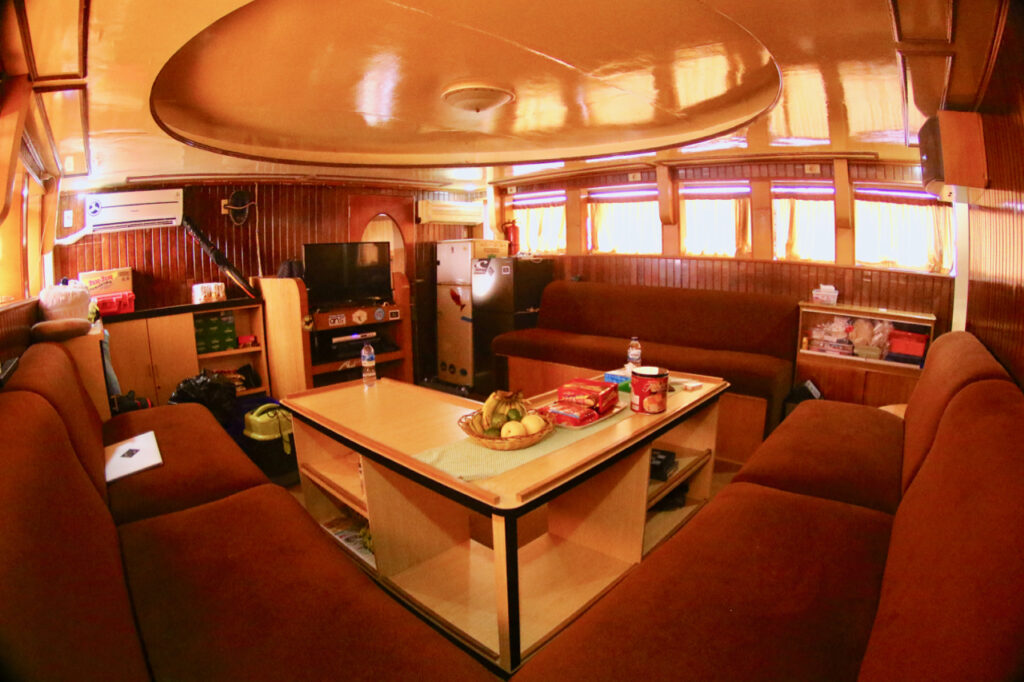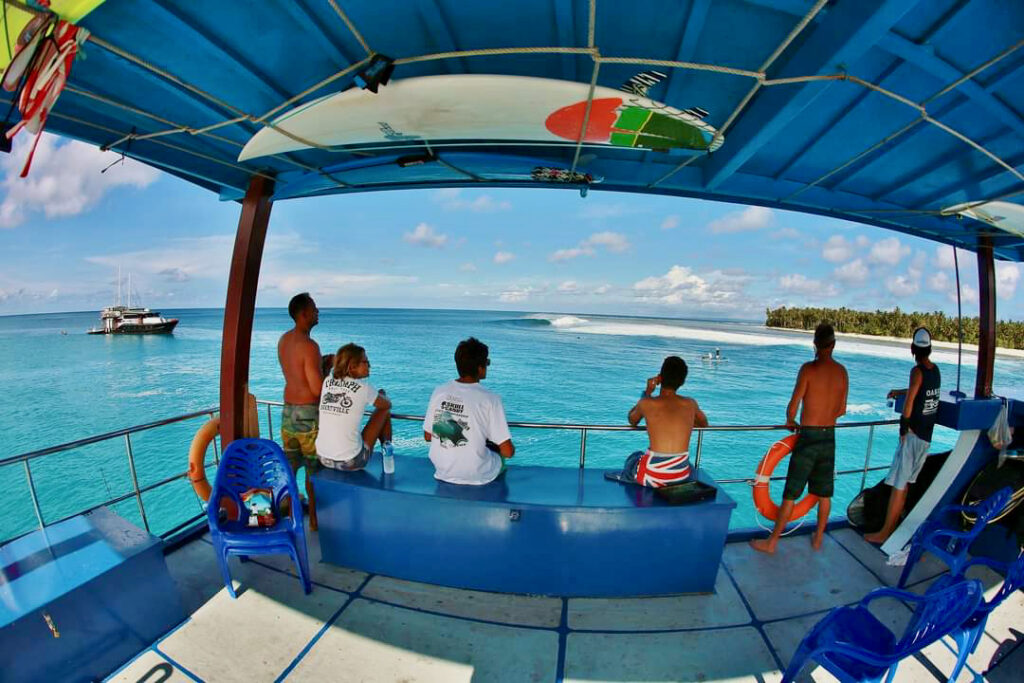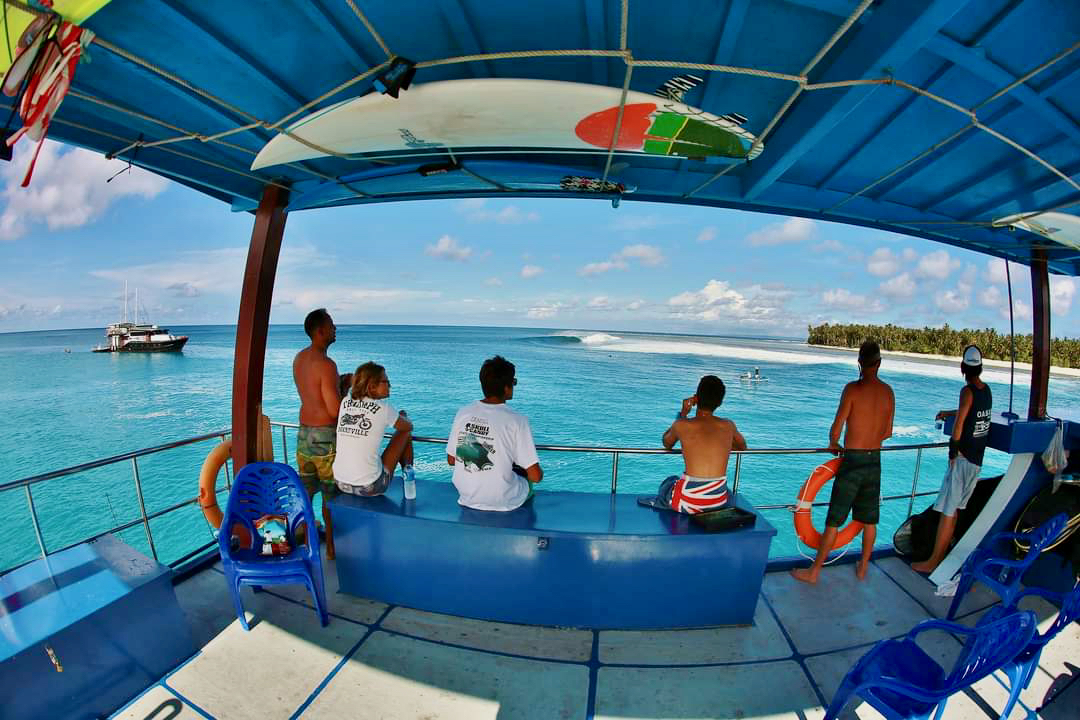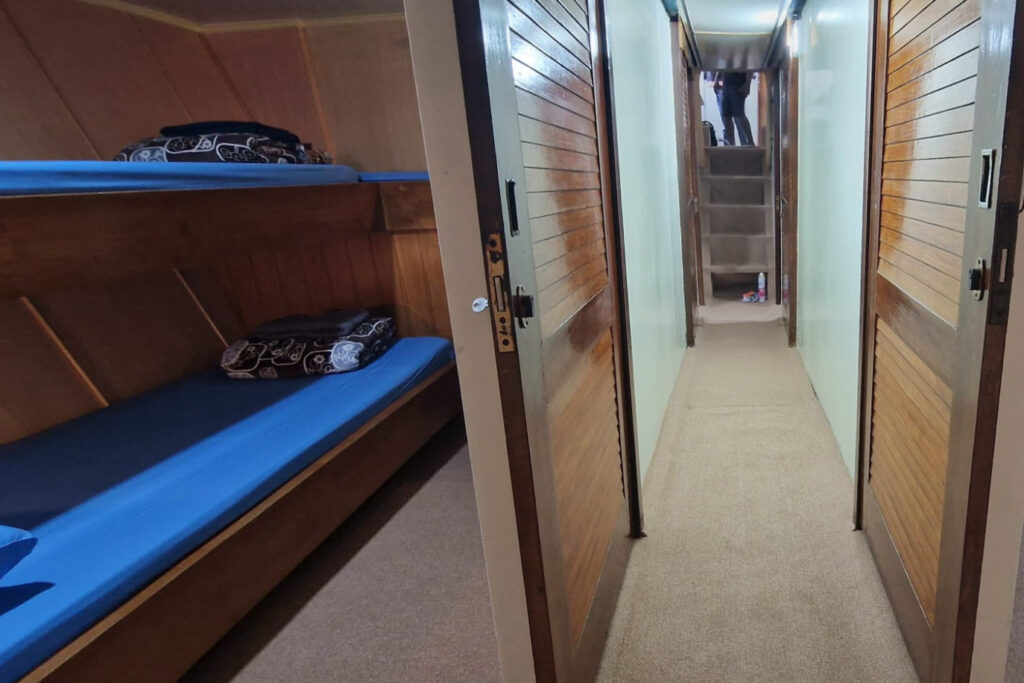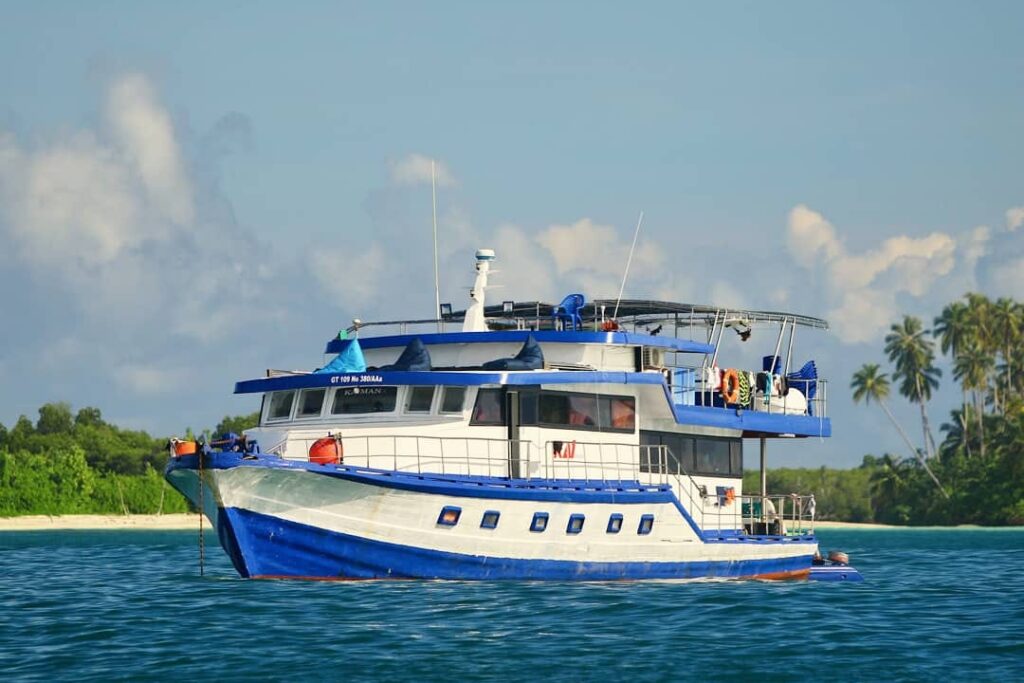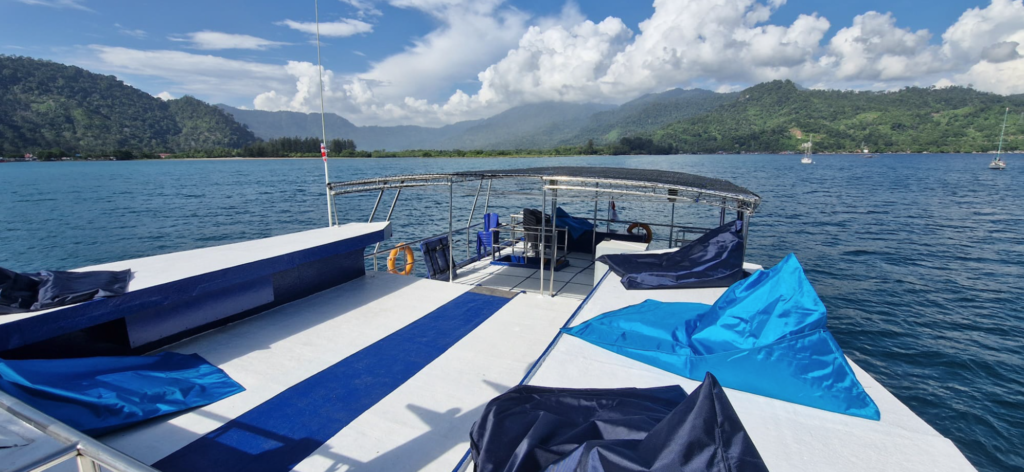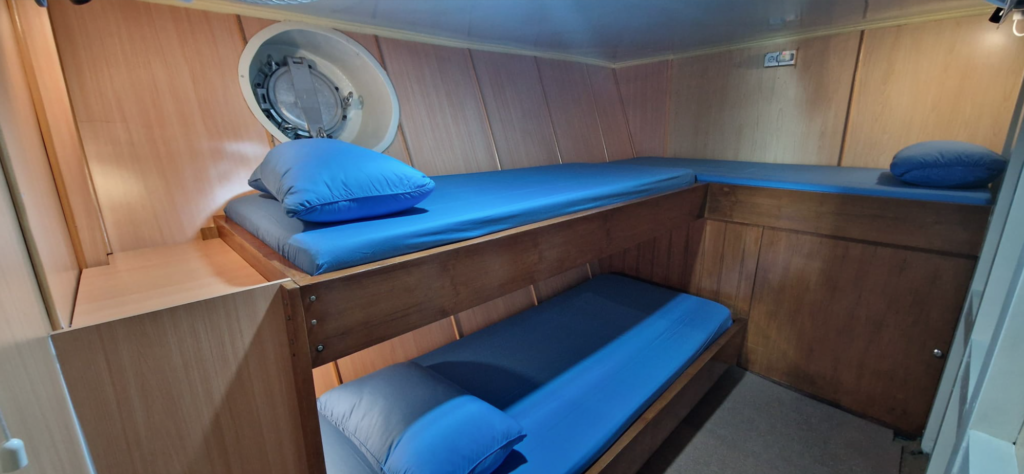 Kaimana 1 is a 24m long wooden boat, very spacious inside and out and stable to sail, she is one of our favorite boats.
Best suited for groups of 10-12 guests, Kaimana has a total of 6 cabins, 2 WC cabins with shower. Each indoor area is equipped with Air Conditioning.
The communal spaces inside the boat consist in a saloon with tv/dvd and a dining area. In addition to this, there is a spacious and cosy upper deck for relaxing and watch the surf while you enjoy an ice cold beer.
Passengers have at their disposal fishing rods, snorkeling equipment, SUP board, a motor boat to support surfing, photography, fishing, access to beaches, etc
Kaimana 1 is the choice for a comfortable yet not expensive surf trip.
There is nothing more important on a surf charter than the fuel for the waves!
Our local Chef will prepare breakfast, lunch and dinner. Snacks and seasonal fruit platters, will be available throughout the day.
The dishes will be a mix of European and Indonesian food, and portions are always sized for hungry surfers, so everyone will be happy!
Fishing in Sumatra is great and the chefs are always happy to cook up the day's catch for you.
Alcohol is available onboard, so you can enjoy a cold beer at the end of a long day in the water!
Indonesia is renowned worldwide for its perfect tropical surf.
Kaimana 1 can be chartered to any area of the islands off the coast of Sumatra. Our main destinations are the Mentawaii Islands and Telos Islands. Routes vary greatly on the season, so we will always get you to the best area!
The best time for surf trips in Indonesia is the dry season, which usually goes from April to October.
During this time of the year, the swells created by the big storms in the Indian ocean, travel thousands of miles, loosing power along the way, until they reach Indonesian shores where they meet coral reefs, warm seas and light winds, conditions that are just perfect for surfing.
March and November are transition months with some smaller swells you can still get great surf without the crowds. If you are looking for smoother and absolutely empty waves, these months are a great choice for a boat trip in Sumatra.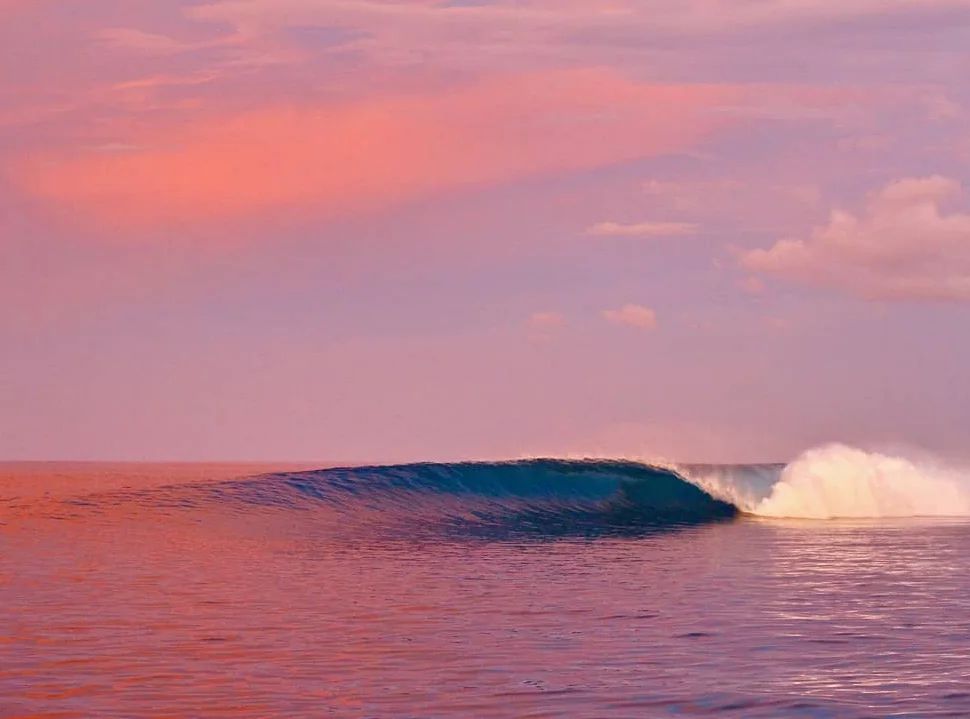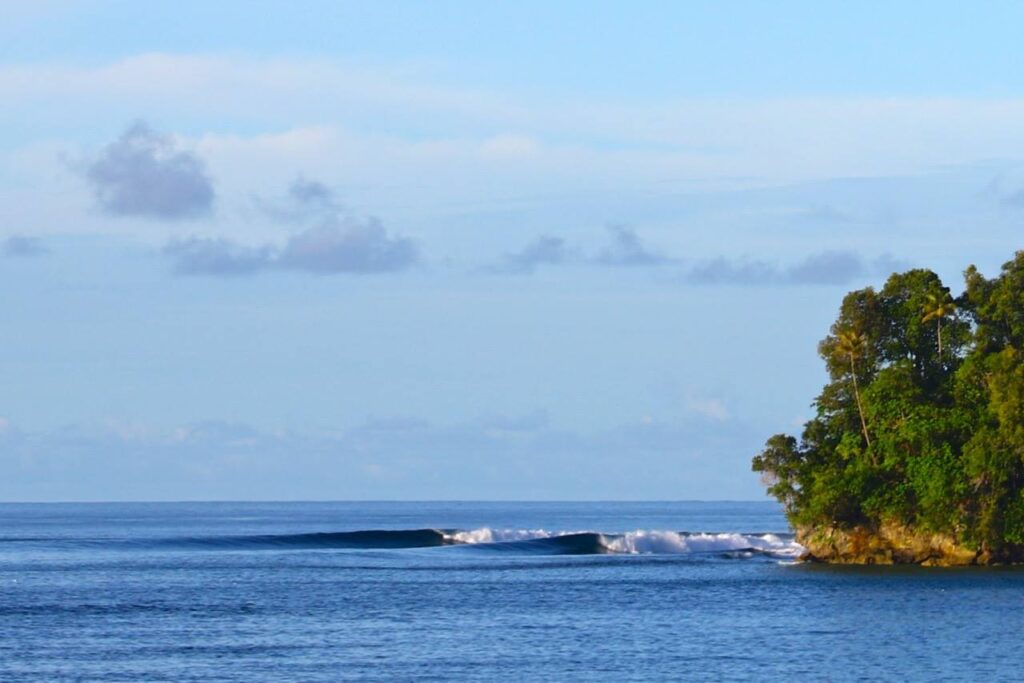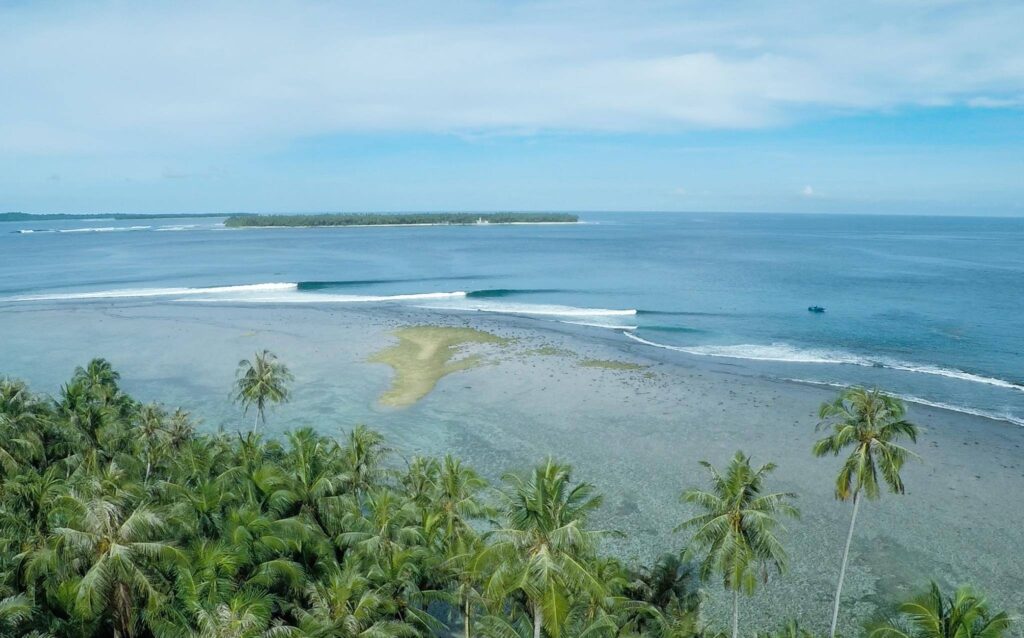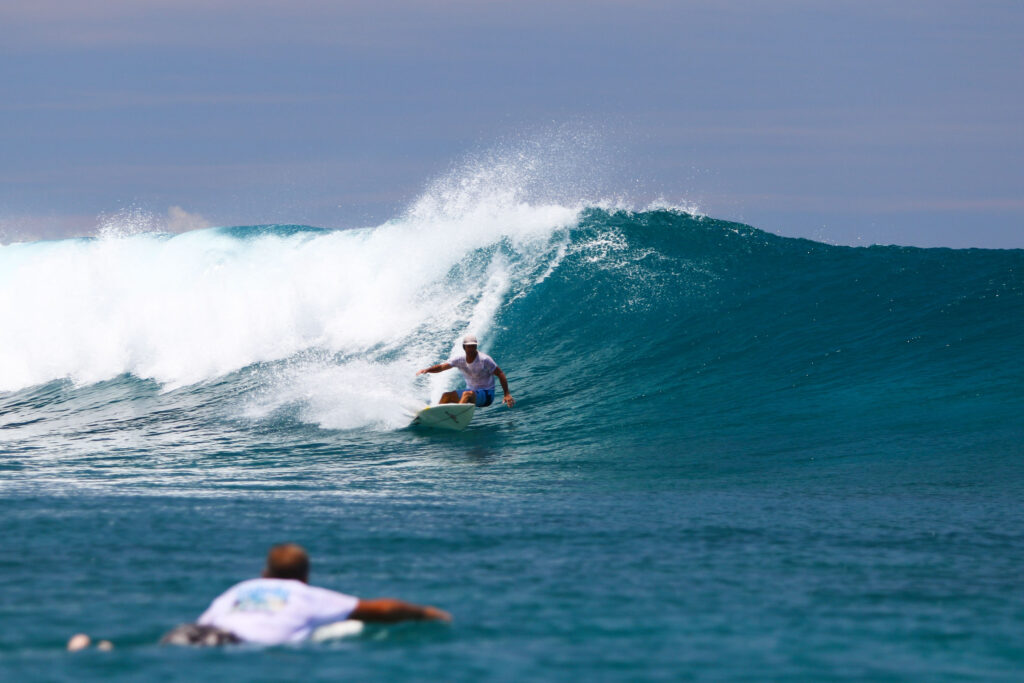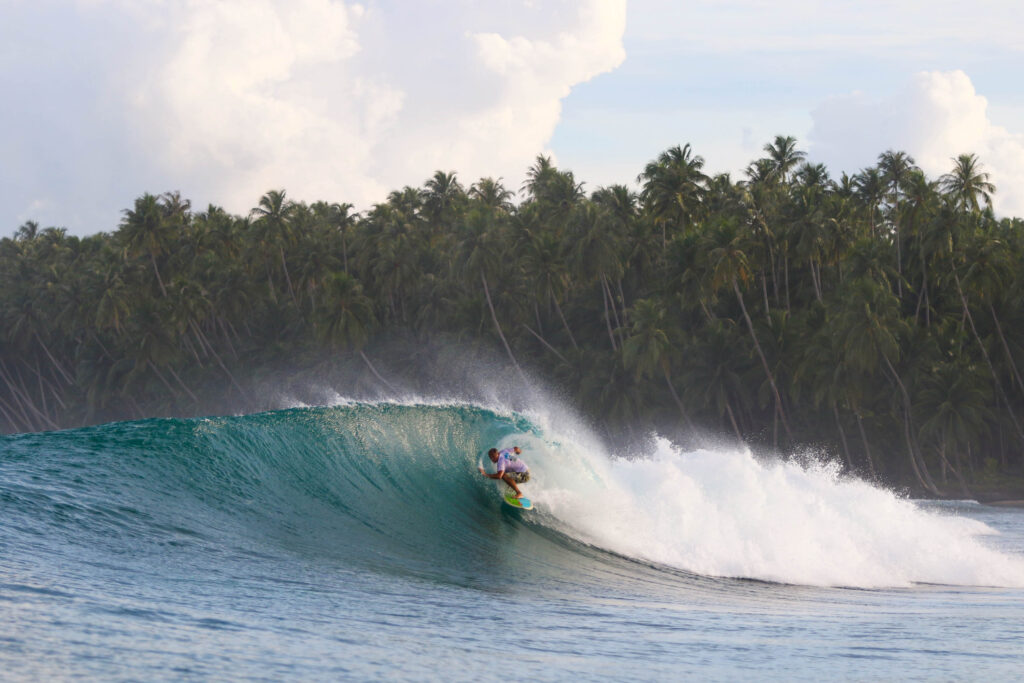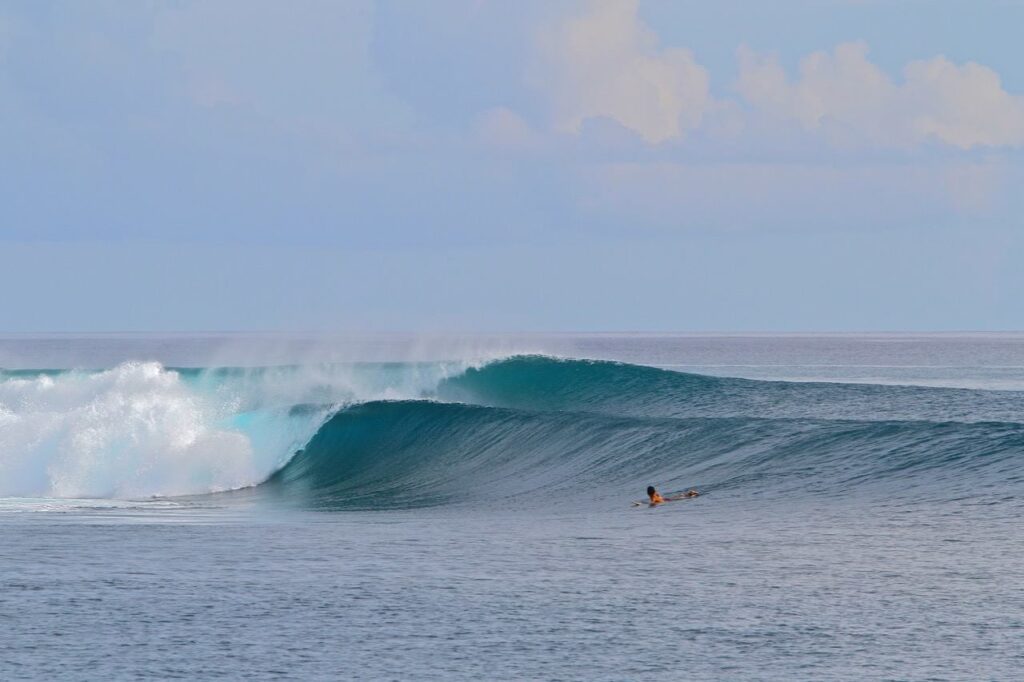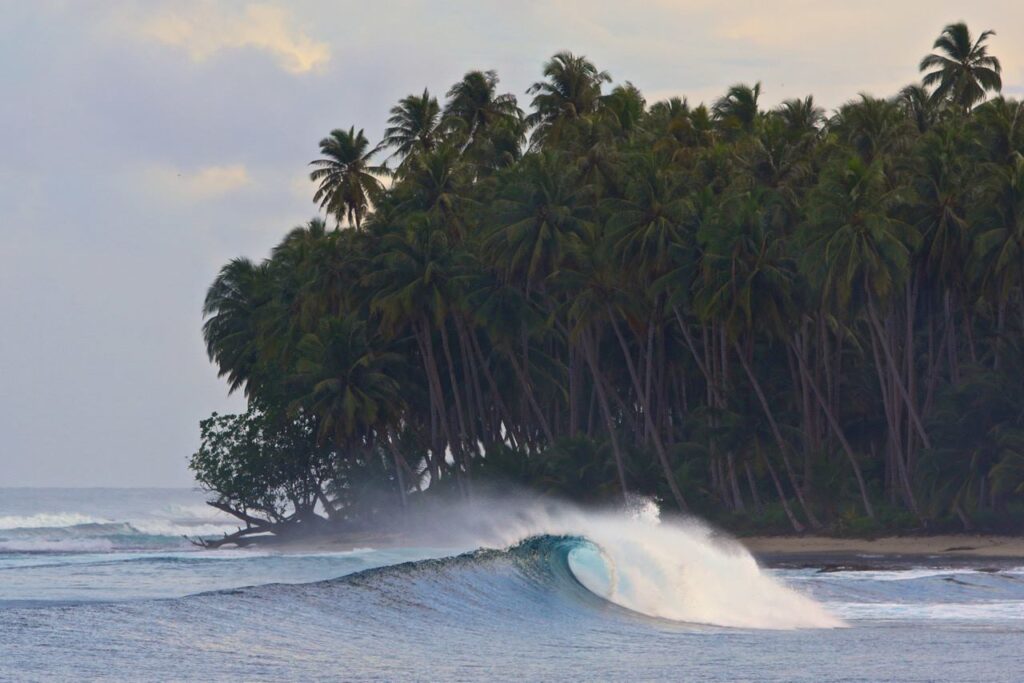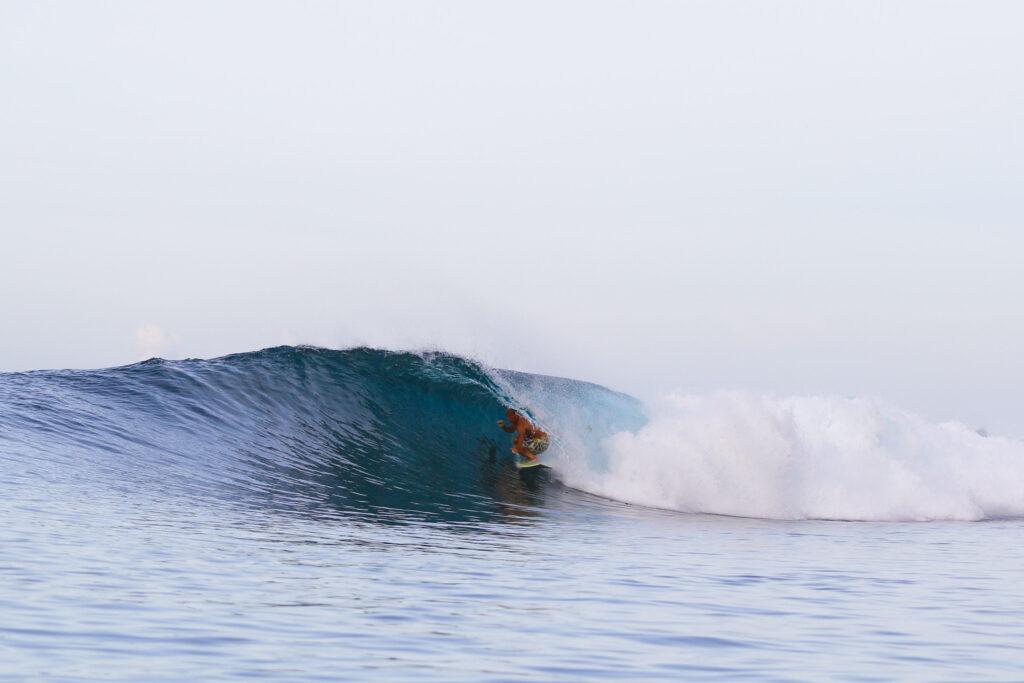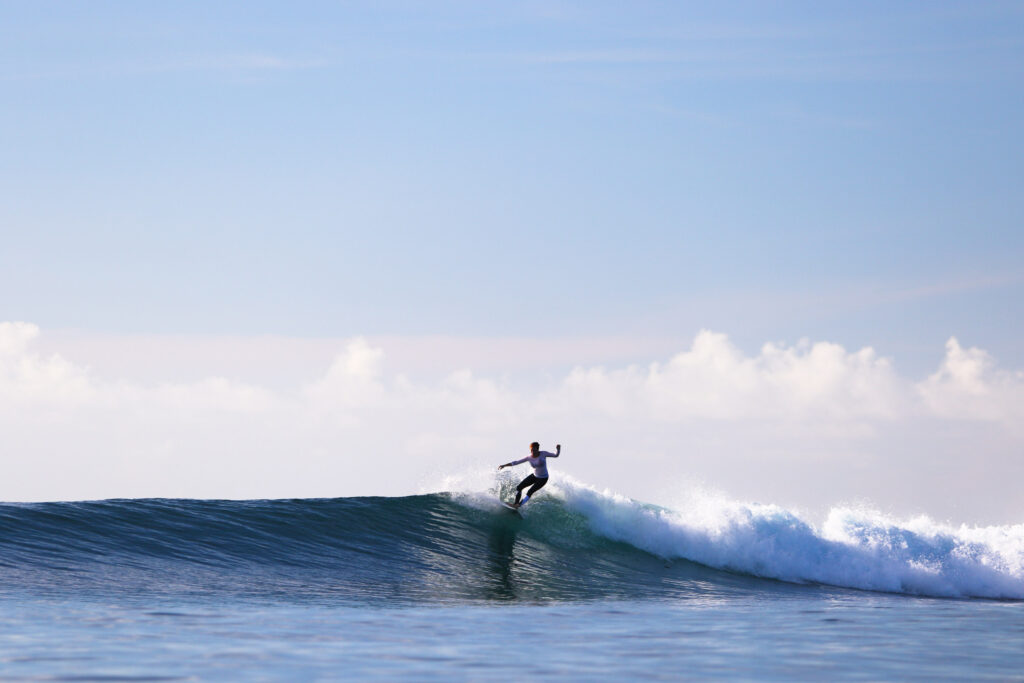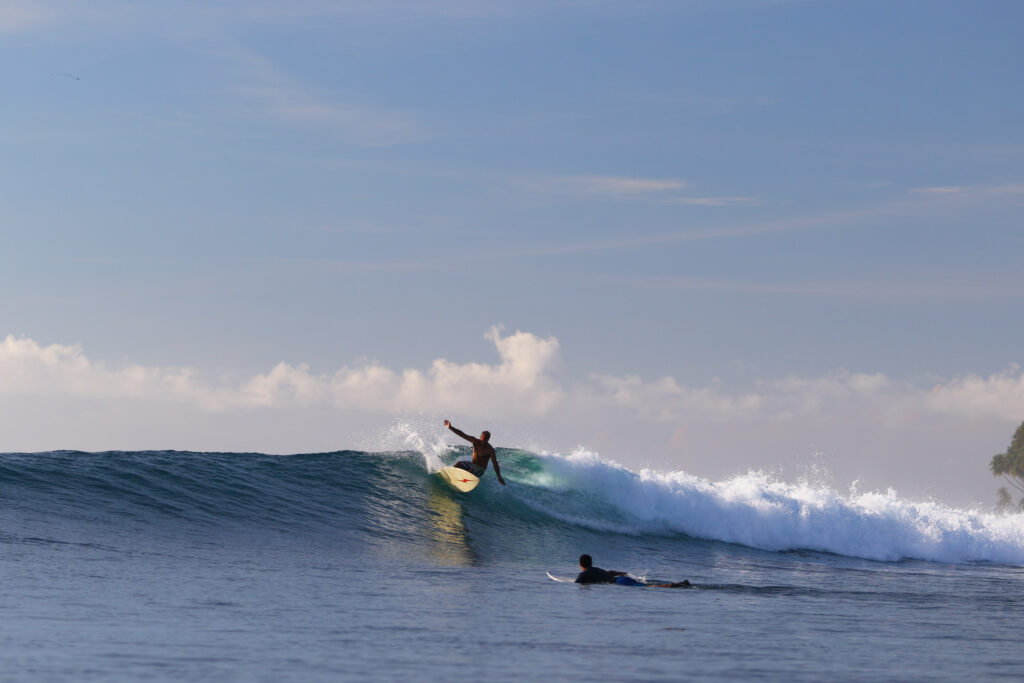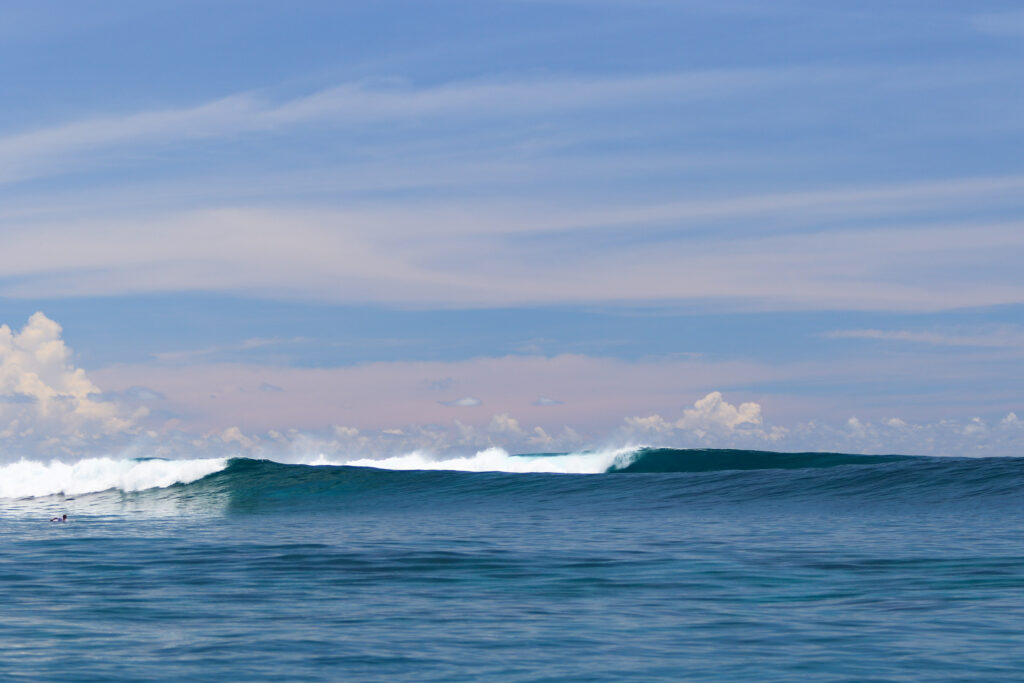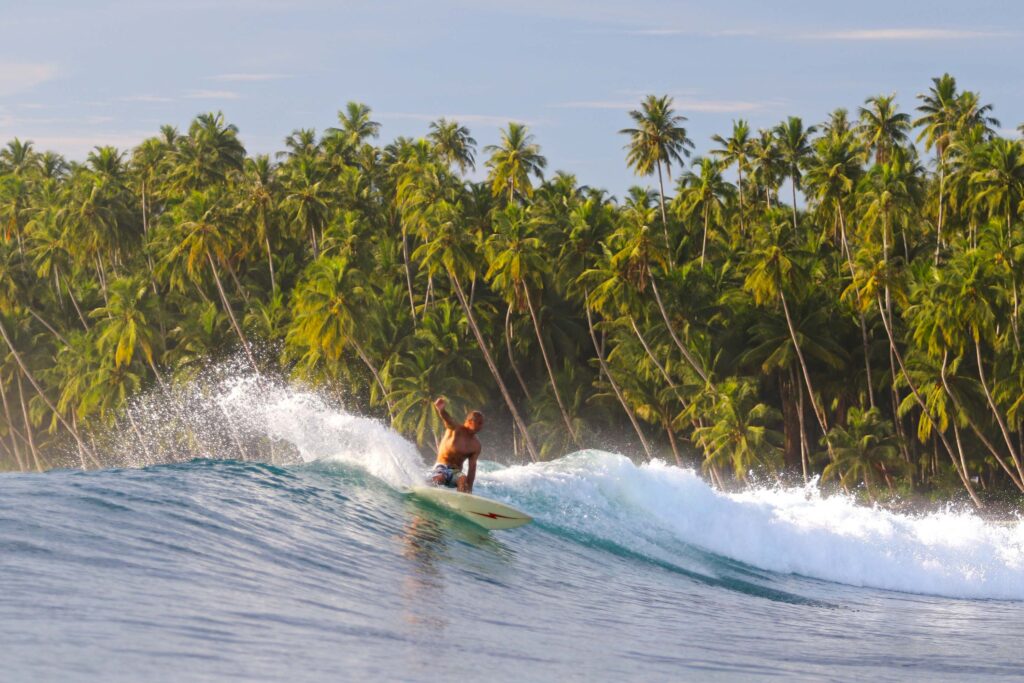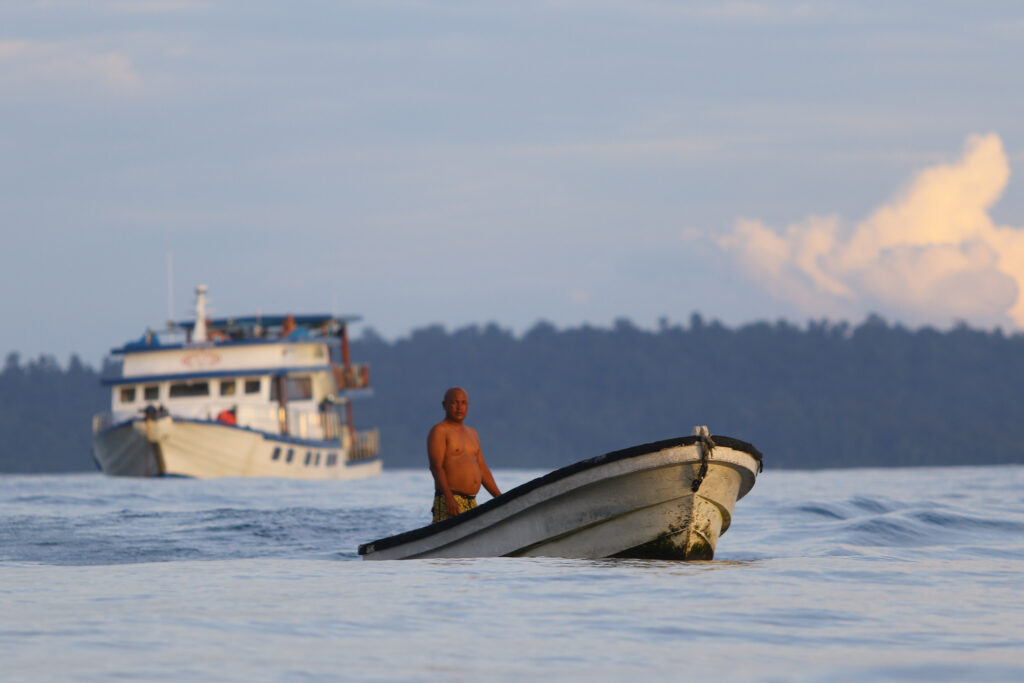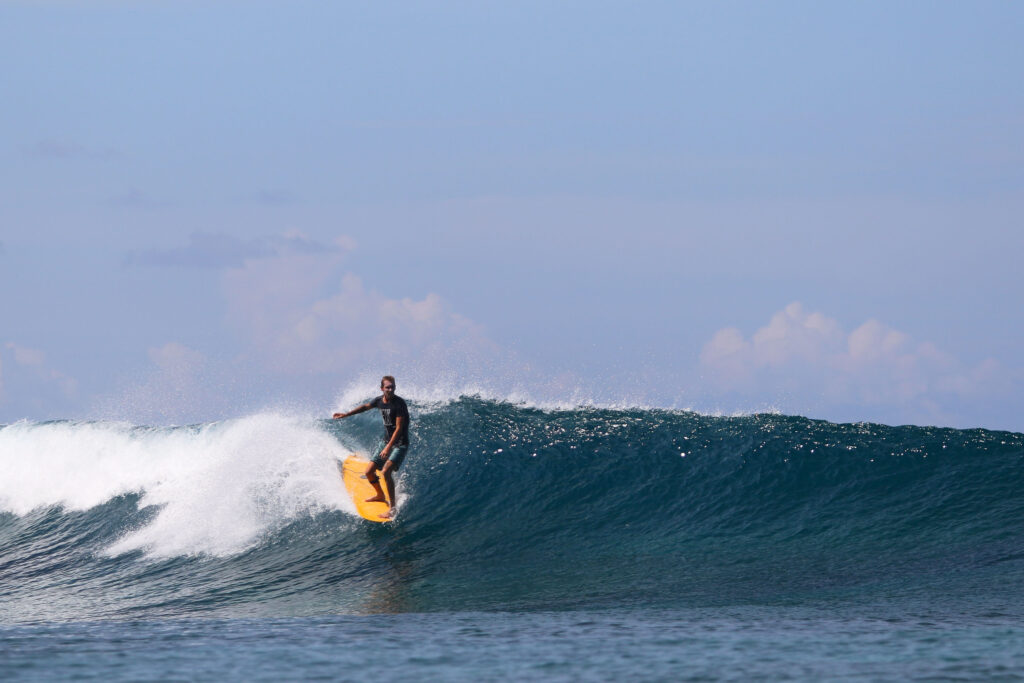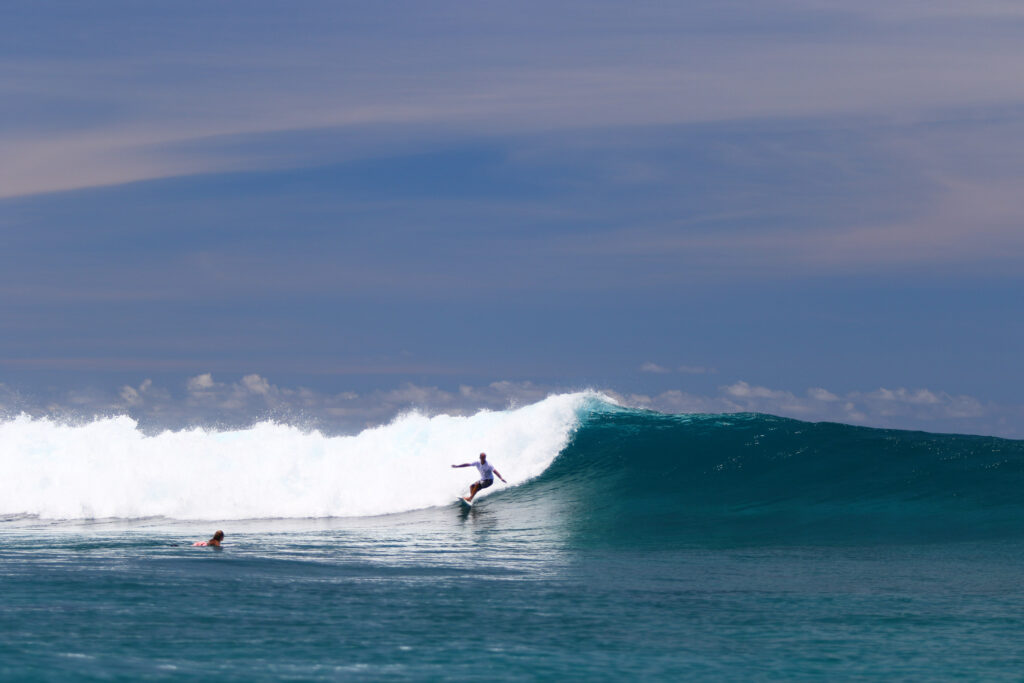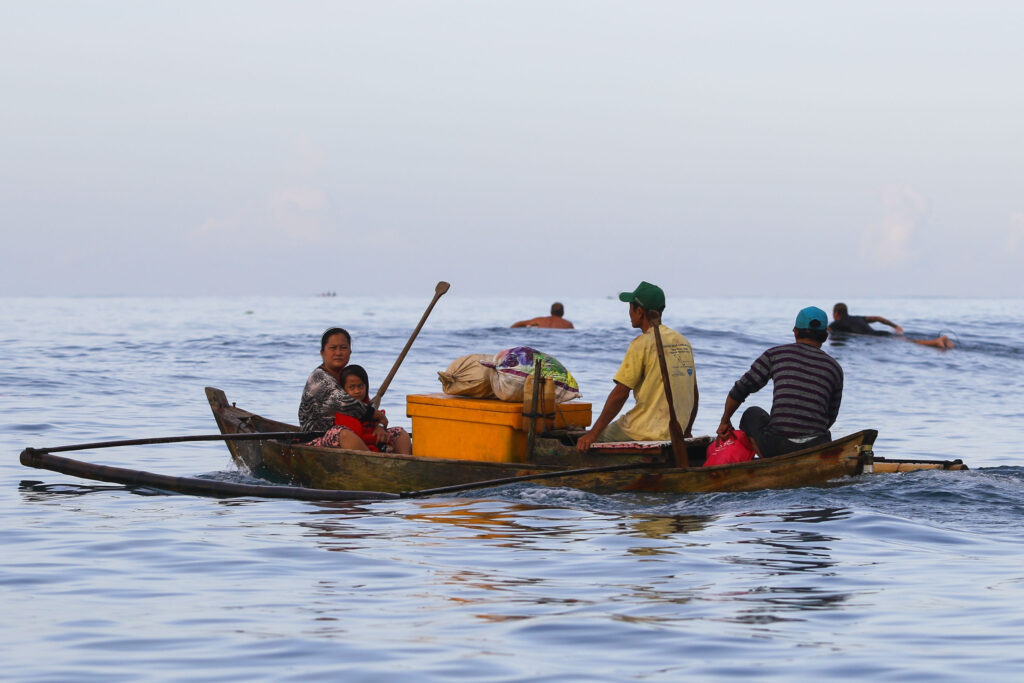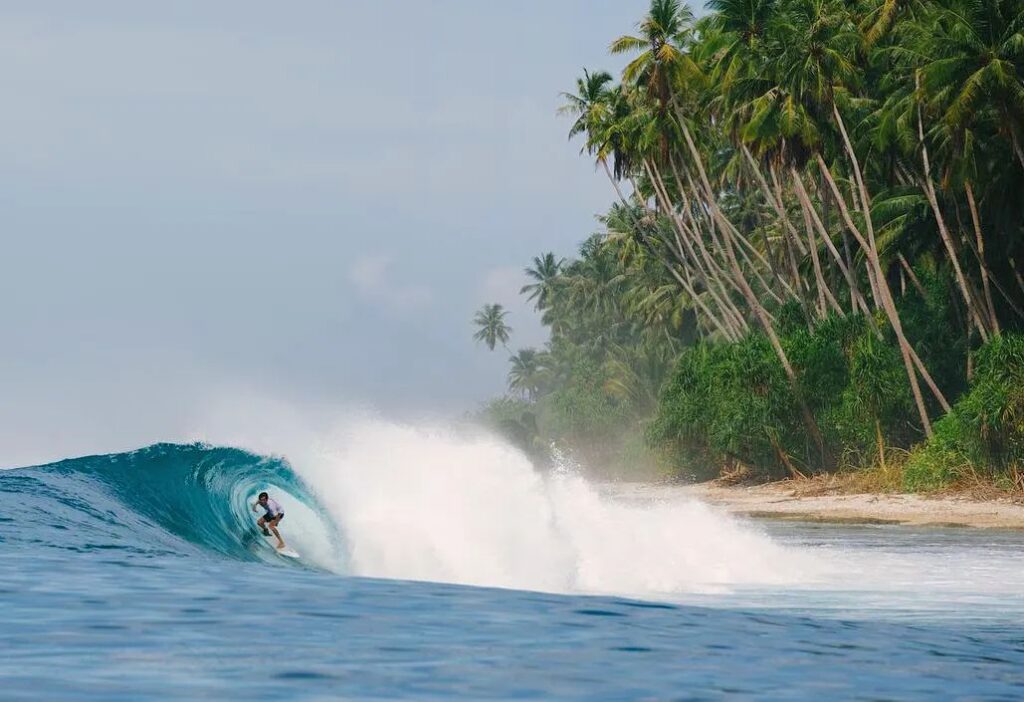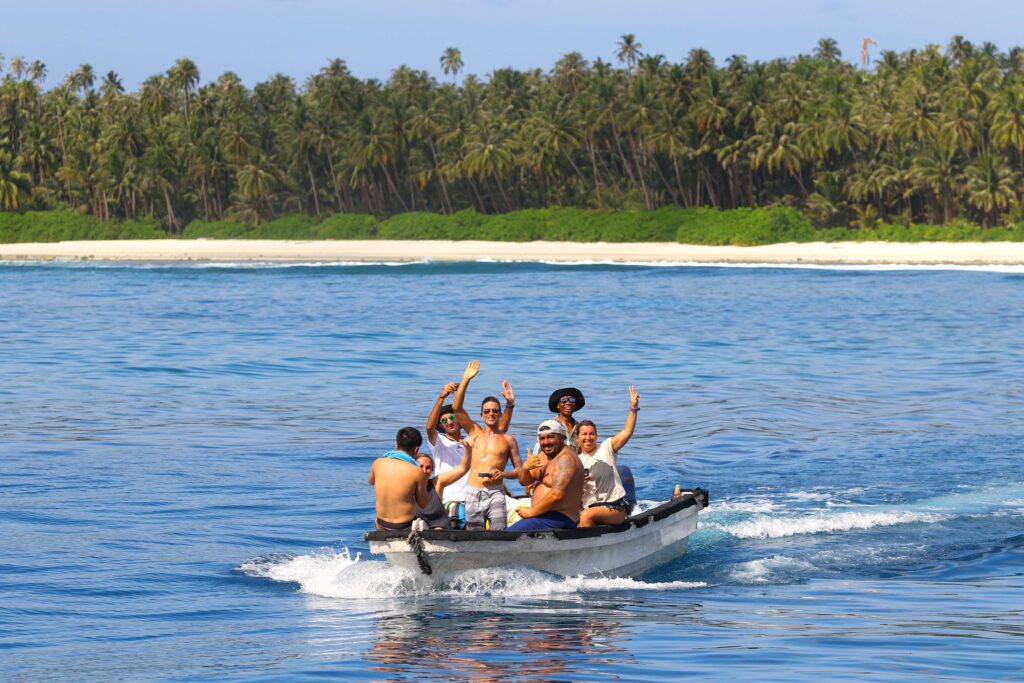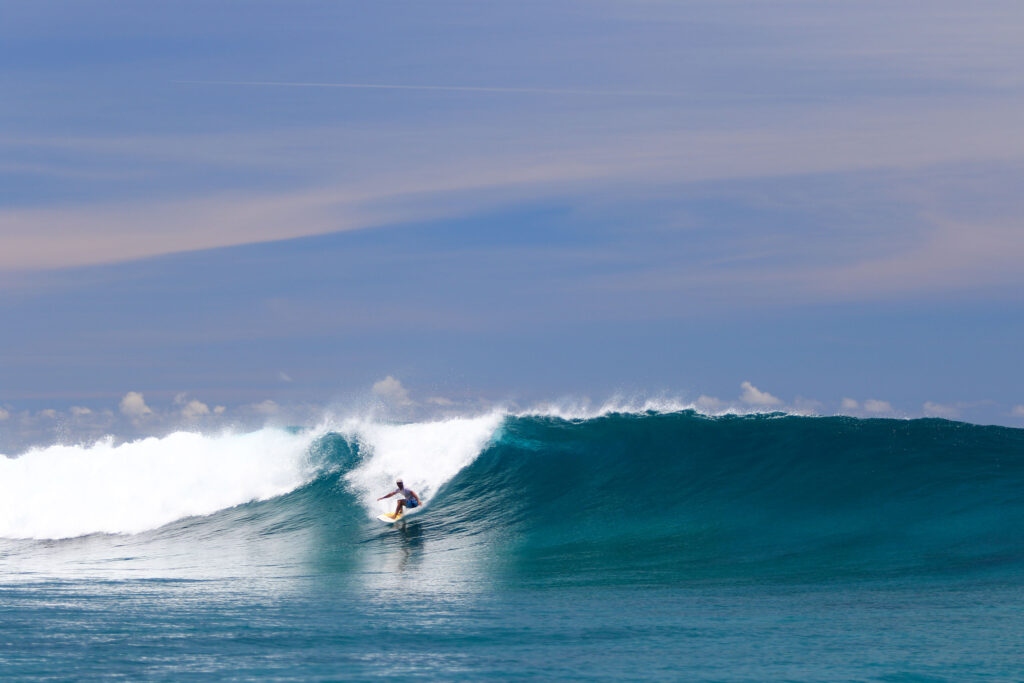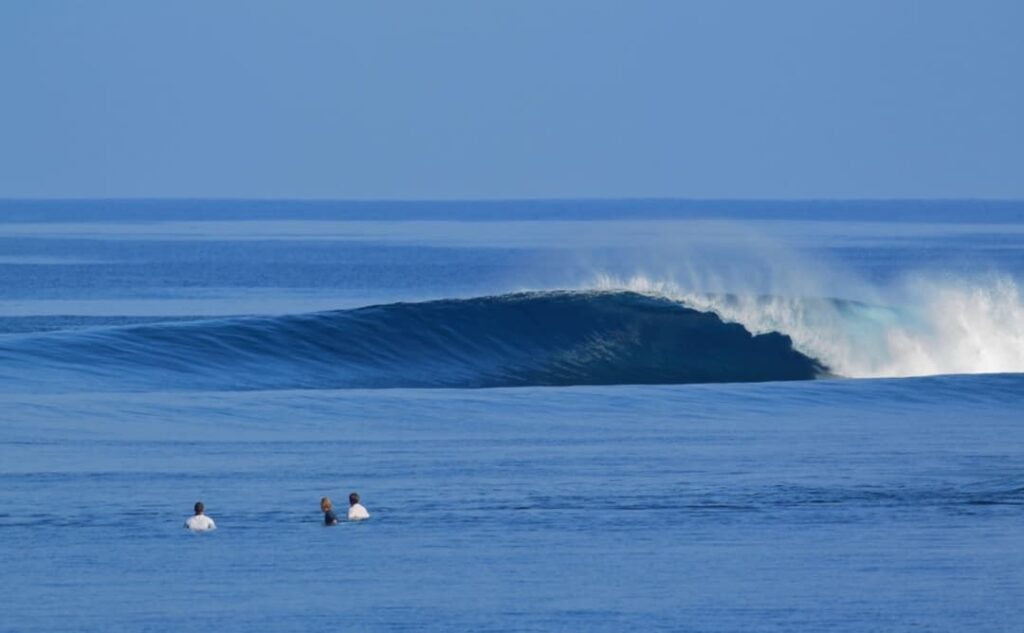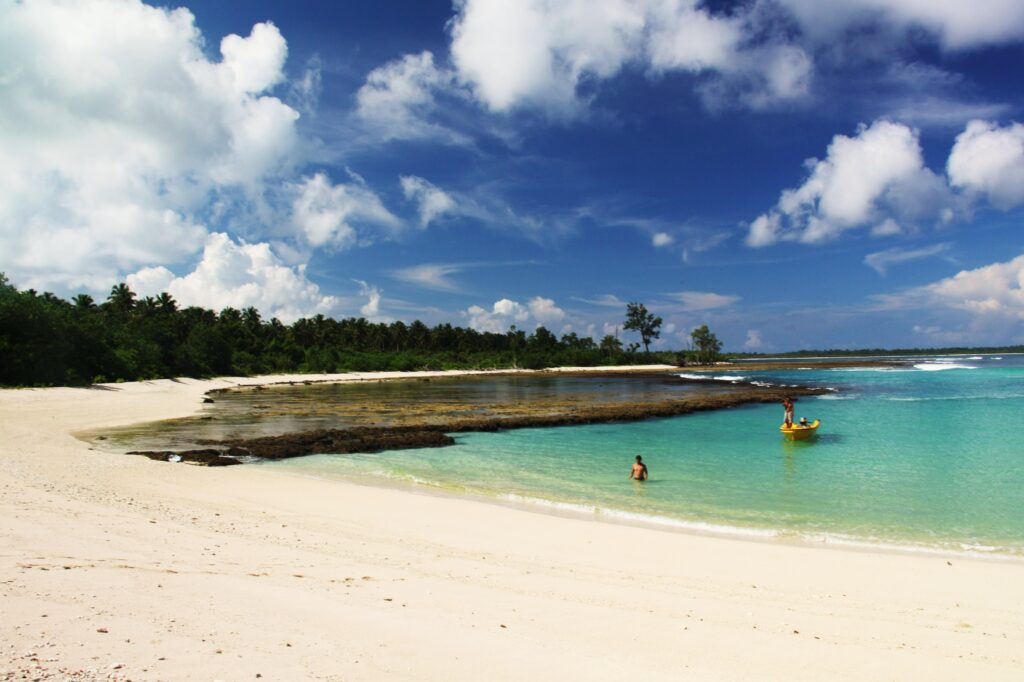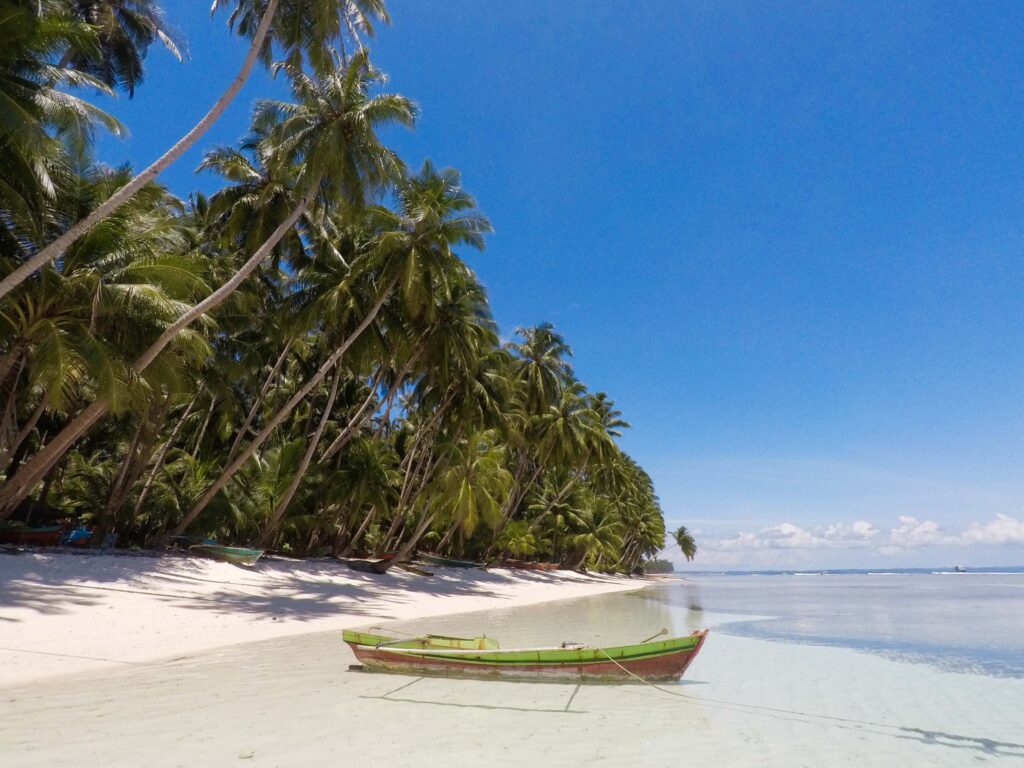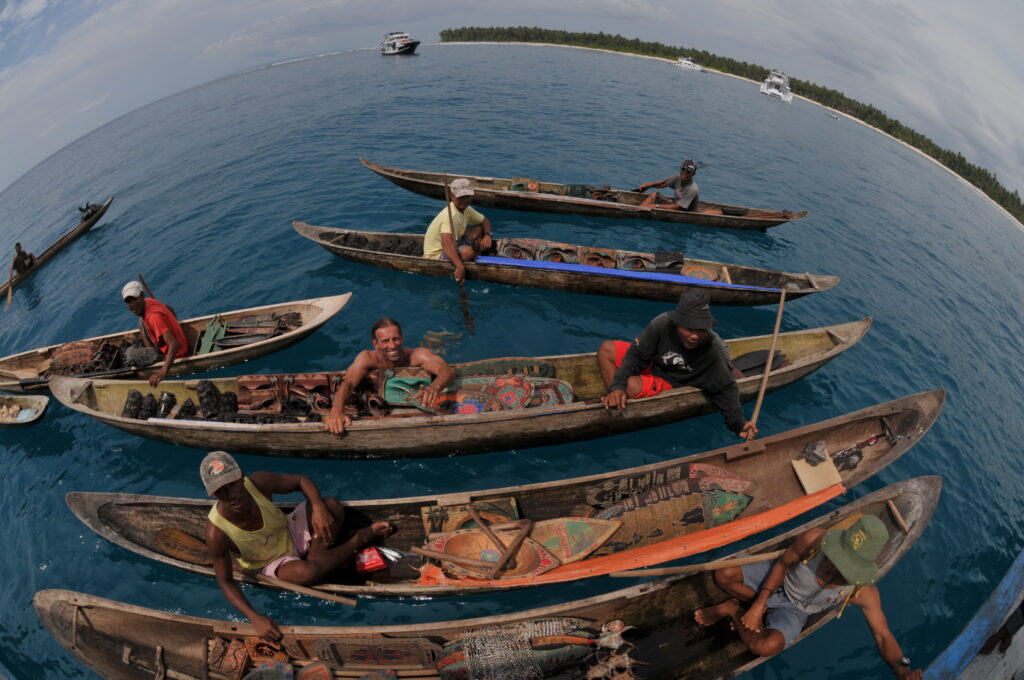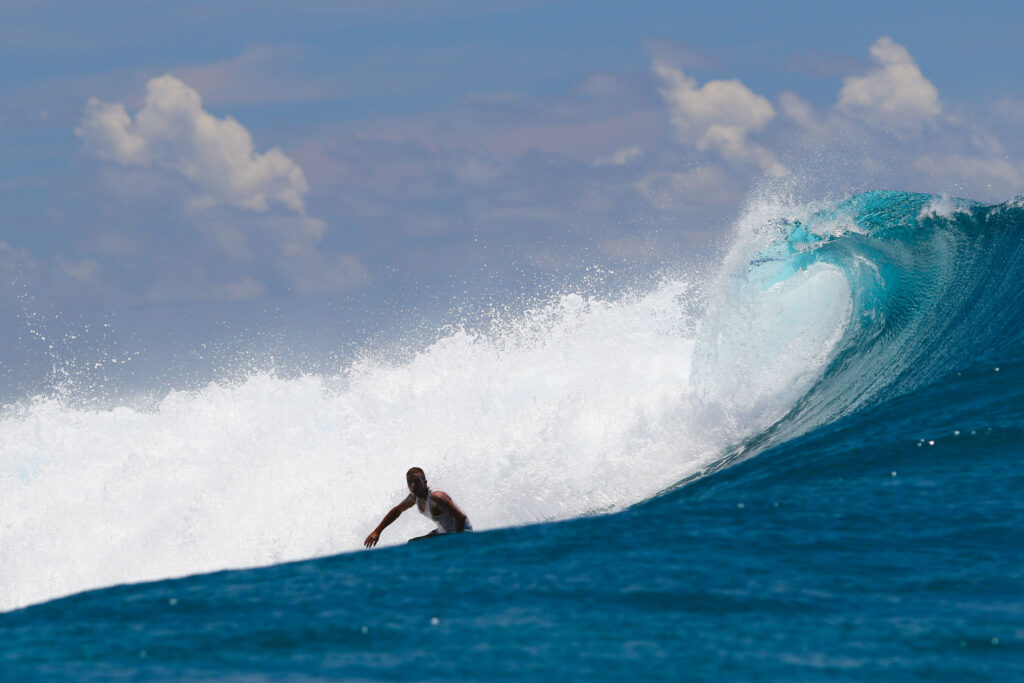 The purpose of the Laneez Indo Surf Charter is to take our guests trough an opportunity of significant progress of their surfing skills.
Enjoy an unforgettable adventure exploring the ultimate surf destination on the paradisiac islands off shore Sumatra.
To help with that task we will have on board a qualified and experienced surf coach to assist with all levels of surfing.
Our coach will supervise, at least one session per day as well as frequent video and footage analysis advising about technique, surf gear, wave approach, etc.
 10 nights on boat
Transfer from Padang airport to the boat and return to the airport;
Chef-prepared Breakfast, Lunch and Dinner
Snacks, soft drinks and bottled water
30 cold beers for each passenger (average of 3 beers per day)
Surf Guiding
Dinghy to reach surf breaks/beaches
Surf Coaching by Laneez Ericeira – Lessons + video analysis
All taxes and fees applicable by the government of the Mentawai
Surf Photo pack (available/optional for extra charge);
Flights;
Airport transfers;
Surfboards (available to rent for extra charge, inform us in due time;
Travel insurance (mandatory);
Meals off the boat;
Hotel in Padang if required;
Gratuities for boat crew (normally USD 50 per passenger);
Medical or hospital care if needed (this is why insurance is required).
Is my surfing level good enough for a boat-trip in Sumatra?
Yes, as long as you are not an absolute beginner.  If you catch waves by yourself (without being pushed) you are ready for a Sumatra surf trip.
Of course some spots are for expert surfers, but that happens in all surfing areas around the world. You don't have to surf there; actually many surfers don't.
There are literally hundreds of surfing spots at the Mentawai, Telo, Nias, Hinako and Banyak, and of course there are waves for surfers of all levels.
Our surf-guide pays particular attention to those who are surfing in Sumatra for the first time, advising about each surf spot, how and when to paddle out, the best tide, if you need reef-shoes in that particular spot, what not to do in that wave, etc.
How are the waves like in Sumatra? Are they for "pro" surfers only?
NO!!! That's a myth!
There are more than 50 waves at the Mentawai, more than 30 waves at the Telo islands, more than 20 at Nias, etc., etc., and of course there are waves of all kinds: hard-core, medium and easy waves, fast and slow waves, barrelling and not barrelling waves, etc. Therefore there are waves for all levels of surfing skills.
The average wave-size in Sumatra is 3-6 feet (1-2m). Occasionally the waves get bigger (8 feet/2,5m) but when that happens it's only for 1 or 2 days, and even then usually there are alternative spots to surf smaller waves.  We know many spots for those surfers who don't want to surf 8 feet barrels, so don't worry, we will find the right waves for you.
Most waves break over coral reefs so a careful approach is needed particularly at low tide. But our surf-guide will not take you to surf on dangerous spots or in hard-core conditions.
Often our guests surf all the spots demanded on a trip.  Many of them tell us they've had the best surf of their lives, or the best barrels …or their first barrel ever!
What boards / equipment should I take on a boat trip?
For trips on low season (October – November/ March – April) we will be chasing for small shoulder high waves. Retro boards, fun boards and mini-malibus, according to your preferences, will be more appropriate on these coaching trips.
You can also Rent one of our surfboards for the whole duration of the trip for 150,00 euro, saving the trouble of traveling with heavy board bags. Please contact us if you want to reserve one of our surfboards for your trip to make sure the board of your preference is available.
Bring reef-shoes although most of the times you won't need to use it.

 

You will not need a wetsuit as the water temperature is around 28º C, but a light rash-guard offers good protection against the equatorial sun as well as to your ribs from contact with your board deck …and also in case you hit the reef.

 

Bring a couple of leashes and wax for tropical water.
Your surf-guide is always ready to assist you and advise on the conditions and details of each surf spot, recommended board, or any questions you might have.

 

Don't be shy to ask him, he really wants to see you happy and scoring.
Take turns in the line-up and respect the surfers who are waiting for a wave for longer than you.

 

NO SNEAKING please!
Is it necessary to take out travel insurance?
Yes, it's mandatory. You know the old story: accidents only happen to others…until they happen to us! Indeed it is true. Over the years we have seen several accidents, fortunately nothing very serious (torn ligaments, dislocated shoulders, infected wounds, etc.), but even so, some of them required hospitalization, physiotherapy, changing flights, etc. These expenses are more than enough to justify insurance coverage.
What documents do I need to take with me?
Passport with at least 6 months validity;
2 photocopies of the passport;
Printing of the round-trip flight ticket to Indonesia (sometimes the border authorities require the presentation of the return ticket home);
Photocopy of the insurance policy, with the information to trigger it (contacts, procedures, etc.);
Credit/debit cards for withdrawing money from ATMs.
Who decides where we surf?
Passengers decide where they want to surf, based on the advice of the surf guide, who informs the group about the waves available that day, taking into account the size and direction of the swell, the winds, tides, etc.
The guide's main concern is to satisfy the preferences of the group. If you are not satisfied with the waves, let the guide know. What he wants most is for all passengers to catch the best waves of their lives so that they will want to return.
Is there a cell phone network on the boat?
Often yes, but not always. Currently, there are already many places on the islands of Sumatra with mobile network coverage, and every year there is more and better coverage. It's rare to go more than 2 days in a row without a network.
We also have a satellite phone on board for situations where there is no mobile phone coverage, and for emergencies.
Is there Internet connection on board?
Sometimes. When cell phone coverage is good, it is possible to access the internet with a smartphone. The best way to do this is with an Indonesian mobile network SIM card in an unlocked smartphone, and a data package. You can buy them in Padang before boarding; is not expensive.
You can't count on excellent coverage or fast access, but it's enough to send and receive emails, check surf forecasts, and sometimes even make video calls (skype, whatsapp, etc.).
What is the minimum number of passengers for a boat trip?
There is no minimum number of passengers. We can even make a trip with 2 or 3 passengers as long as they pay the travel costs. The more passengers on board, the cheaper the price per person.
For groups of less than 8 passengers, the price per person is expensive, so we recommend groups of 8-10 people.
The maximum number is 10-12 passengers, depending on the boat.
What is a typical day on a boat trip like?
At first light in the morning (around 5:45 am) the boat will already be anchored in front of a surf spot. The surf guide gives you a quick briefing on that wave and you can surf alone enjoying the sunrise while the other surfers are still sleeping.
Back on the boat, have a full breakfast, relax a bit, and get back in the water whenever you want. It is normal to surf twice before lunch.
Lunch is served around noon, but if you're surfing don't worry, the cook will store your food for you.
Until nightfall you can surf as much as you like, eat, rest, surf, take a nap, surf again, watch a movie, surf again…
At sunset, you'll be drinking cold beers with friends and discussing the day's waves, while the boat sails to another surf spot or to a safe anchorage, usually 1 or 2 hours away, to spend a peaceful night. .
Dinner is served around 7:30 pm, and after dinner the photographer does a session with the best photos of the day.
Shortly after (21-22h) you will be sleepy as each day begins at sunrise.
Do I need adapters to charge my phone, camera, etc.?
The electricity on board is 220 V, and the power sockets are the European type with 2 pins (identical to the Portuguese ones).
If you live in the US, your electronic equipment runs on 110 V, and you need a 110-220 V transformer.
Can I get my money back if for any reason I can't go on the trip?
Yes, as long as there is someone to replace him. It is not difficult to find a replacement, as long as you have some time in advance.
What if an accident happens during the trip?
In case of a serious accident we call for help by radio or with our satellite phone, and if necessary we immediately proceed to the nearest hospital.
There is often a doctor or nurse among the passengers on our boat or on board another boat nearby, and in case of need, all boats communicate via radio to find a doctor.
There are new hospitals on Nias Island and Padang, and several health centers on Mentawai, Telo and Banyak Islands.
There are modern hospitals and doctors of all specialties in Jakarta, Kuala Lumpur and Singapore, cities located 1-2 hours by flight from Padang. Treatments at these hospitals can be expensive, which is why travel insurance is necessary.
Minor injuries and minor health problems such as diarrhoea, fevers and flu, coral wounds and infections, etc. are normally treated on board with our complete first aid kit. Our surf guide is trained in first aid and has a lot of practice in this type of situation, including applying sutures under anesthesia.
Besides surfing, what can I do while traveling?
You can swim, snorkel in the colorful coral reefs, go fishing or spearfishing, explore the surroundings on a SUP board, relax on a beach and drink coconut water, photograph tropical scenery, visit a village, or just relax on board, reading a book swinging in the hammock and letting yourself fall asleep, doing some yoga or stretching those sore muscles from surfing, playing chess with the Indonesian crew, playing cards, watching a video or listening to music… and everyone's favorite pastime , see and review that sequence in your tube in detail and show it to your friends!
Are you interested? Send us a message and we'll give you more detailed informations about the trip!